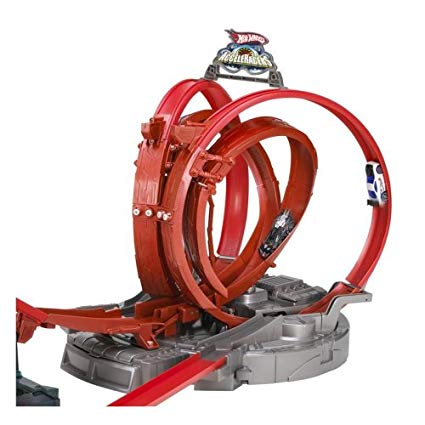 The Acceledrome Trackset was released in 2005 to promote the Acceleracers movie series. It featured a spinning Acceledrome and a Wheel of Power that explodes. The track could be played alone but was best experienced with 2 players, the goal of the set was to aim the cars correctly into the AcceleDrome and then do it again to get the cars to reach the Wheel of Power.
The Track Set came with the 2005 release of Bassline.
Trivia
The trackset was based off of one of the final scenes of The Ultimate Race, where Vert escapes the Racing Drones to reach the Wheel of Power as Gig blows up the Acceledrome.
The trackset had a re-release near the end of 2006 which included 4 random Acceleracers cars from different teams instead of just Bassline.
Gallery