Jurassic World: Dominion Dominates Fandom Wikis - The Loop
Play Sound
This is about the Acceleracers movie series. For other meanings, see Acceleracers (disambiguation).
Hot Wheels: Acceleracers (stylized AcceleRacerS) is a 2005 animated series of films. It was created by Mark Edens and Ian Richter. It continues after Hot Wheels: World Race and features new and returning characters.
There are four original movies, starting with Ignition and concluding with Ultimate Race. The 4 movies and mini-episodes were animated by Mainframe Entertainment (now Rainmaker Studios).
Plot
The series takes place 2 years after the events of Hot Wheels Highway 35 World Race,[1] and follows two rival racing teams the Teku and the Metal Maniacs as they race against the Racing Drones in the Racing Realms.
Movies
Development
See also: Acceleracers (Movie Series)/Development
Acceleracers began development in February 2004,[2] with animation being produced from June 2004 to June 2005.[3] Concept designs for vehicles may have began as early as late-2003, according to Hot Wheels vehicle designer Eric Tscherne.[4]
Production Material
Test Animation
An Acceleracers test animation was made by DQ Entertainment LTD. around the beginning of 2004. A beta design for the Acceledrome and Reverb was modeled and animated.
Box Art
Art director Alan Andrews was hired as Senior Designer for the Hot Wheels brand.[5] Alan integrated still images from the animations and created a packaging for each of the DVDs.[5]
Release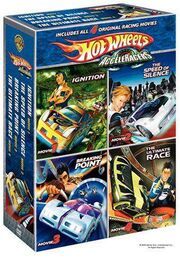 Home release DVDs were sold for $19.98 US dollars.[6] VHS copies were sold for $14.94 US dollars.[6]
Acceleracers: Ignition aired on Toonami at January 8th, 2005, at 6:30 PM (5:30 Central),[7], with the DVD and VHS releasing on March 22nd, 2005.[6]
Acceleracers: The Speed of Silence aired on Toonami at March 19th, 2005, 6:30 PM (5:30 Central),[8] with the DVD releasing August 22nd[9] and the VHS releasing August 23rd.[10]
Acceleracers: Breaking Point aired on Toonami at June 25th, 2005, 6:30 PM (5:30 Central),[11] with the DVD releasing March 28, 2006.[12] No VHS release was produced.[12]
Acceleracers: The Ultimate Race aired on Toonami at October 1st, 2005, at 6:30 PM (5:30 Central),[13] with the DVD releasing in November 28th, 2006.[14] No VHS release was produced.[14] A gift set of all 4 movie DVDs was released on the same day, priced at $41.82 US dollars SRP.[14]
Continuation and Cancellation
Plans for a continuation were in early conceptual stages, with several patents and concept art suggesting it would've revolved around transforming vehicles.[15][16][17][18] These concepts evolved to Stunt Strikers, a 2007 McDonalds line, and then to Battle Force 5.
An anonymous team member at Mattel responded to an email sent by reddit user u/racingdrones on February 2nd, 2016, concerning the cancellation of Acceleracers. The team member stated, "Acceleracers was cancelled due to the revolving marketing team, and worries that Acceleracers was becoming more popular than Hot Wheels itself."[19] The concepts and designs made for the Acceleracers continuation were eventually moved to Hot Wheels: Battle Force 5.
Reception
The series as a whole (World Race and all 4 movies) has a 7.3 out of 10 rating on IMDb.[20] Common Sense Media gave the series 2 stars out of 5.[21] Kidzworld gave the show 4 stars out of 5.[22]
Other Media
Collectible Card Game
See also: Acceleracers Collectible Card Game
A collectible card game was released in late 2004, packed in with Acceleracers die casts. A promo animation was produced, and features different animation and lighting than the ones seen in Acceleracers. It can be seen here.
Acceleracers Soundtrack
See also: Acceleracers Soundtrack
A CD selection of Acceleracers music was released on August 30th, 2005,[23] manufactured and distributed by Sony BMG Music Entertainment.[23] A YouTube playlist of the score ripped from the movies can be found here.
Online Games
Online flash games were produced and hosted on CartoonNetwork.com and HotWheels.com. Only two were made, that being Acceleracers: Track Mod and Acceleracers: Realm Champion.
Fan Projects
See also: List of Fan Projects
Several fan-made continuations have been made by members of the Acceleracers community, most of which being abandoned or outright cancelled. Most notable is Acceleracers 5: The Edge, a sequel fan-comic which launched in October of 2013, gaining 2,300 Facebook followers.
Gallery
Trivia
In the Toonami airings, the Hot Wheels logo was removed due to unknown reasons.[24]

However, in Speed of Silence and onwards they replace it with RD-09.[25]

With all the production photos we can somewhat piece the name evolution of Acceleracers;

Realm Racers > XL Racers > Acceleracers
See Also
External Links
References