History:
Edit
RD-04 is a car that is part of the Racing Drones lineup. It never makes an on-screen appearance but was released as a Die-Cast collectible car.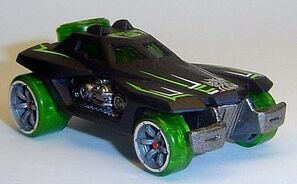 Features:
Edit
-Grappling Hook
-Energy Balls
-Spare Tire
Die-Cast Variants:
Edit
-2005 Acceleracers Racing Drones
-2006 Team Colors Series
-2006 Ultimate Track 3 Pack
-2006 Holiday Hot Rods Series
-2008 Hybrid Racers 5 Pack
-2008 Hot Wheels Turbo Driver
-2011 Thrill Racers Ice
-2011 Hot Wheels Mystery Models Circuit Champions Series
Because this car is driven by RD-L1, it is speculated that it can turn into the Slam Ram Hyperpod.