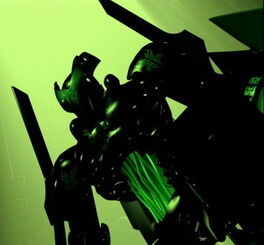 RD-L1 is a head assistant Racing Drone that works with Gelorum in the Drones' Headquarters. He is seen driving his RD-08 throughout Ignition, but he later replaces it with an RD-05.
Appearance
Edit
RD-L1 is incredibly tall standing on aproximadely 10 to 11 feet tall, it has a metal visor/mask that closes on a "Y" shape and is black/translucent green.
It has metal appendanges on certain parts of his body which the purpose is unknown, probably to blend/fuse with their vehicles as seen in the movies, where it reveals to be the entire top and side parts of the car. it has the Racing Drones's logo on his shoulders and chest, also having green letters on certain parts of his body, including his forearm.
His legs bend in three different parts and end in a giant foot with two giant headlight-like toes. It can be speculated that these toes are really the headlights of the car it drives according to the "theory" above that it merges with it's car when driving.
It is the highest rank of drone to ever exist in the Racing Drones' hierarchy, losing only to Gelorum herself.