Jurassic World: Dominion Dominates Fandom Wikis - The Loop
Play Sound
Acceleracers: Realm Champion was an online multiplayer Flash game released in early 2005 to coincide with the release of the Acceleracers movie series. It is unable to be played in its current form, due to the servers being shut down after Acceleracers was cancelled.
The only files saved so far by the Accelepedia team that could be ripped are the menus and loading screen.
Many other files exist and are saved, including a DCR file, being a unsupported file format.
Gameplay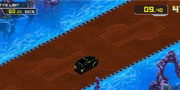 The game revolves around driving in the Racing Realms featured in the movies, competing against other players. You could select your team and unlock cars through Challenge mode. After joining for the first time, you would be given an Accelecharger for free.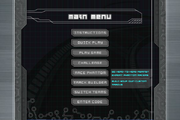 Modes
Not that much is known about each mode, besides the the few descriptions that remain in the files.
Quick Play -
Play Game -
Challenge - 
Race Phantom - "Go head-to-head with expert Phantom Racers"
Track Builder - "Build your own custom tracks"
Maps
Swamp Realm
Water Realm
Metro Realm - "Explore the vast metropolis at nighttime"
Neon Pipeline Realm - "Race around and in a huge pipeline"
Junk Realm - "Race through a threatening junkyard"
Drones HQ - "Drive through the ruins of what once was Hot Wheels City!"
Cars
There were 21 cars made into the game.
Codes
Codes would unlock various content in the game. The only content known so far are more phantom racers and preset track builder tracks.
NOLO45 - Given out in a 2005 promo video, this is the only promo code to be archived. What it would've unlocked within the game is unknown.
JUMP73 - Unlocked the Warped Realm AcceleCharger.
Music
There were 10 music tracks in the game, and you could select up to 2 per race. What those music were is unknown, as they are not saved within the menu files.
Gallery
Trivia
Despite Acceleracers airing on Toonami, the game was hosted on CartoonNetwork.com.
The car selection screen renders are the same as the vehicle turnarounds from the Meet the Cars special feature.
External Links